Leadership Team
Flourish Homes' leadership team is comprised of our founder, Beth, and is governed by a Board of Directors.
The Board members have experience working for DHS, education, youth ministry with inner city youth, church board, accounting, community nursing and resources, and mentorship with young women.
We are grateful for our resident advisers who sleep at the home, Program Coach, mentors, and our volunteer leaders.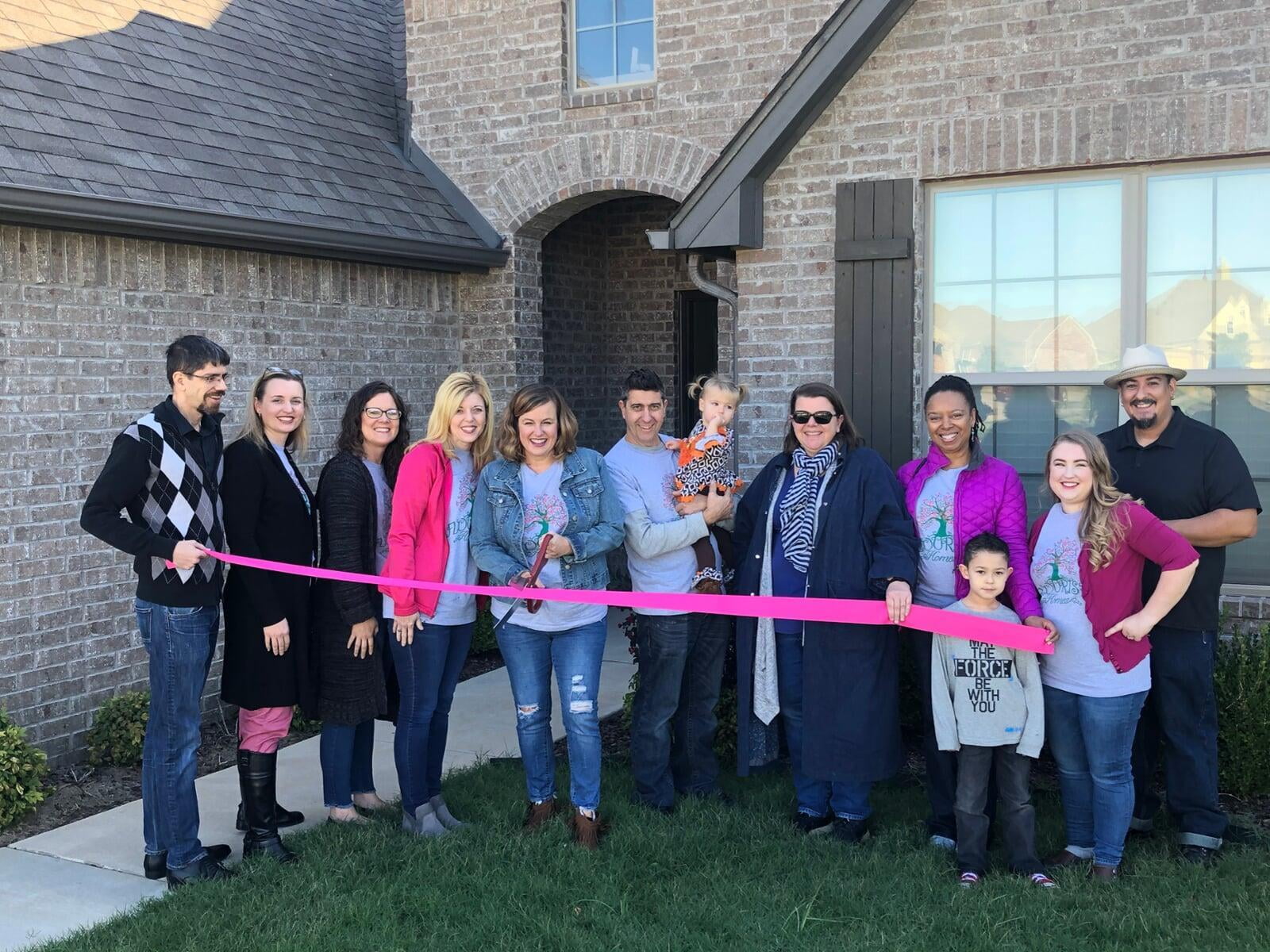 Ribbon Cutting on October 12, 2019
Left to Right: Peter Maddux, Anna Gomez, Rhonda McDaniel, Julie Kline, Beth & Kevin Reinwald (with daughter), Tabitha Monson, Catherine N'dhlovu, Brittney & Mario Guadderamma (with son).
Beth Reinwald, Founder & CEO
Along with being CEO of Flourish Ministries, Beth is Registered Nurse, and she last worked for Saint Francis Hospice. God has used Beth in nursing for over 20 years, in management positions, as a youth leader for inner city youth, and as a God-Mom to one of her youth girls who lived with her and inspired her to start Flourish Homes.
Beth has done mission work in India, Turkey, Egypt, the Dominican Republic, and Haiti. She moved to Tulsa to attend Victory Bible College and is a graduate of their Practical Ministries and Missions program.
Beth is passionate about helping girls thrive and flourish! She has always had a heart to mother, even when she was not yet a mother herself. As a youth leader, she identified that many young women simply cannot make it on their own when they are missing critical supports like family, basic necessities, and a relationship with God and His church.
It is her belief that when kids are 18 and aging out of foster care or in other tough circumstances, they are not "grown-up." Young adults still need caring adults to help them navigate adulthood. Flourish Ministries aims to fill in the missing gaps and be that caring adult. Flourish became incorporated in December 2013. They opened their doors to full-time programming in 2019 when they were invited to take over the Manna House Program in Tulsa. They quickly closed again due to zoning and location issues. In October of 2020 they moved to the Circle of Care Campus on Gilcrease Museum Road where they are fully operational today.
Beth is passionate about raising up young daughters who are whole and healthy who can serve God and others.
Julie owns and operates A Bright Future Counseling, a private Christian counseling practice that assists individuals, couples, and families with navigating effectively through life's challenges. She earned a Master's Degree in Social Work from the University of Oklahoma and holds her license as a clinical social worker. She obtained her Bachelor's Degree in Social Work from St. Catherine University. In addition to her human service background, she is a graduate of Rhema Bible Training College, completing three years of ministry training with an emphasis in evangelism and worship. She is also an adjunct faculty member of Southwestern Christian University, teaching courses in Human and Family Services.
Julie has been working in the field of social work since 1999. Her career has given her the opportunity to work with people at all ages and stages of life. Through her work in foster care and adoption she has seen the great need for children to be in an environment where they can grow, thrive, and become all that God intends them to be.
Julie attends Living Rivers Millennial Church in Bixby, OK. She is passionate about Jesus and is honored to be part of Flourish Homes Board of Directors. She is committed to helping Flourish's young women become all that God created them to be and move into the future He has planned for them.

Rhonda McDaniel, Past President and current part-time Program Developer
Rhonda works part-time for Flourish Homes. She has an MSW from the University of Oklahoma and BSW from Oral Roberts University. Rhonda attends church at Cross Point in Sand Springs. Rhonda has been a grants manager, volunteer coordinator, and was a mentor with Big Brothers Big Sisters.
Working as a Child Welfare Investigations Specialist and Emergency Foster Care Case Manager drew her heart toward helping kids that are aging out of the system. She was devastated when she heard that case workers had to take 18-year olds--when they aged out without being adopted--to the homeless shelter.
When Beth told her of the Flourish Ministries vision, her heart leapt, and she is ecstatic to be part of what God is doing. She believes that God is a father to the fatherless, and that Flourish is a ministry that will lift Him up.
Peter is currently working as the Operations Manager for New Day Media, a Tulsa-based Marketing and Advertising Company. He has a bachelor's degree in Business Administration from Oral Roberts University.
Peter resides in Tulsa and regularly attends Fishermen's House Church, where he serves as a member of the Corporate Board. He has held various positions at Fishermen's House Church, including overseeing a weekly community outreach to the youth in the South Peoria area.
At one-time Beth Reinwald volunteered with this South Peoria ministry that Peter led. Now, seeking other ways to train and equip the youth of Tulsa, Peter joined the Flourish Board in the summer of 2016.
Catherine Ndhlovu, Board Member
Catherine Ndhlovu obtained her nursing license and degree in England where she specialized in mental health and community nursing. She also has a Diploma in Christian Counselling from the Waverly Abbey House.
After moving to the United States, she obtained her Masters of Nurse Education at Oklahoma University. She is employed by the Tulsa Health Department as a Public Health Nurse and teaches parenting skills to low income mothers.
Catherine attends Fishermen's House Church in Tulsa with her family, where they have been active members for almost two decades. She has a passion for helping people of all ages and volunteering.
Catherine's current interests include natural or alternative health and physical fitness. Catherine joined Flourish in 2016, to support the vision of a home for vulnerable girls who have aged out of the foster care system. She looks forward to assisting the young ladies of Flourish Homes to become what God intended them to be when He thought of and created them at such a time as this.